Molecules version 1.4: Now for iPad
April 3, 2010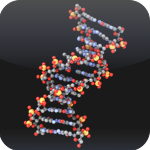 You might have noticed that I updated Molecules to make it version 1.4, which adds some rendering enhancements and bug fixes for PDB searches. However, the highlight of this release is the addition of an iPad-specific interface. Additionally, now that iPhone OS 3.2 is publicly available, I have released the source code to the universal iPhone / iPad version of Molecules.
As I said, the biggest improvement in this version of Molecules is an interface crafted specifically for the iPad, everyone's favorite new toy. Molecules is a universal iPhone / iPad application, capable of running on all iPhone OS devices using the same binary. It auto-detects which system it is running on and presents an appropriate interface for that device.
I may write more about the design of a universal application, but for now feel free to check out the code for the project and see for yourself.
One feature that didn't quite make it into this version is the support for loading your own custom molecules onto the device using the new file sharing capabilities of the iPad. This lets you dock the device and add and remove files for this application via iTunes. I'm working on adding this for the next update.
And, yes, I am working on an iPad interface for Pi Cubed (which will be a universal application like this). It will take a little more work, because it is a much more complex application than Molecules, and I still need to fix some data model issues that I've been trying to overcome for the last few months. Ironically, my advanced iPhone development class has slowed my work on this significantly.
Also in this version is a fix for problems people have been having when trying to do searches in the Protein Data Bank using more than one keyword.