Pi Cubed for iPhone and iPod touch
April 17, 2009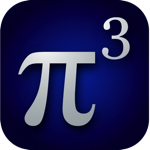 Today, I'm proud to announce the release of my latest application: Pi Cubed for iPhone / iPod Touch. Pi Cubed is a visual math application built around the touchscreen of these portable devices. Rather than follow the standard design of calculators, with fixed buttons and a small LCD display, I wanted to try something new. Pi Cubed uses the full touchscreen to typeset and evaluate calculations, and it relies heavily on Core Animation to animate all of its operations.
Pi Cubed is available for $9.99 (or the local equivalent) on the iTunes App Store.
What it is
It's easier to understand what Pi Cubed is if you see it in action, so I suggest you watch the overview video on the main page for the application. In a nutshell, Pi Cubed lets you enter calculations using a variety of mathematical operations, while typesetting and evaluating these calculations in realtime. This is enabled by a touch-oriented menu system, and assisted by the use of common multitouch gestures (pinch-zooming of equations, and finger swipes for panning across results).
In addition to the base calculation support, Pi Cubed ships with over 150 preprogrammed equations. You can load one of these equations at any time and start entering values for the variables. Tapping on a variable brings up a text label that describes what it is, a feature that is great for reference or educational purposes.
Pi Cubed is currently available on the iTunes App Store for $9.99. Unlike Molecules, I've decided to charge for Pi Cubed. I'm not doing this to get rich on the iPhone gold rush and quit my day job, but merely to see if I can build a sustainable business on the side.
I'd also like to announce that I have elected to donate 10% of my net proceeds from the sale of Pi Cubed (after Apple's cut) to the Child's Play charity. Child's Play is an outstanding organization, founded by Jerry Holkins and Mike Krahulik of the Penny Arcade webcomic with the goal of providing video games and toys to children's hospitals around the world. I am a gamer and have been a fan of Child's Play for years, but always felt that there was more I could be doing to help. Even if Pi Cubed is not for you, I encourage you to keep Child's Play in mind, especially during their end-of-year fundraising drive.
Why I wrote it
I started kicking around ideas for Pi Cubed soon after the launch of the App Store, when the first solid download statistics started coming in for Molecules. I was stunned at the interest level for what I considered to be a niche application which would only appeal to a small subset of students and scientists. Instead, Molecules was the #8 most downloaded free utility of 2008 in the App Store, with over 360,000 downloads to date.
It was also about that time that I'd started playing around with all of the calculator applications available for the iPhone. Despite many of them having impressive lists of features, I found myself going back to using my TI-85 every time. When I work out my math, I do it visually. I also like the ability to edit the calculations I've entered. Traditional calculators with single-value displays don't satisfy these needs. There are a couple of applications that let you enter full expressions, but they rely on fixed buttons which either take up much of the screen or were too small to hit reliably. Additionally, all of them used plain-text representations of the equations you were entering, rather than the nicely laid-out calculations we're used to working with on paper.
I decided that I wanted to try making mathematical expressions the central element of the interface, and gear everything to be easy to touch. I had also done some work with Core Animation, and wanted to get a little deeper into the framework. After some experimentation, I decided this could actually work. Six months later, this is what I was able to produce.
What's in store
Pi Cubed in its current state is a powerful application, but I have a lot more planned for its future. The most significant addition that I am currently working on is unit support for numbers, with conversions occurring transparently behind the scenes. This will greatly enhance the built-in equations, particularly for engineers and students who deal in all sorts of units for physical quantities. Other planned additions include: even more equations for the built-in library, matrix math, MathML export, user-created equations with variables, and a Mac desktop client.
Unfortunately, my work on Pi Cubed has drawn me away from Molecules over the last six months. I will now be able to get back to work on that application, with another update hopefully happening soon. For those of you using Molecules' code as a point of reference, I hope to clean that up and improve the documentation throughout.